I attended the Original Sewing & Quilt Expo in Raleigh, NC this past Thursday (and again on Saturday). It was a pretty nice show. I enjoyed some good shopping, meeting lots of other fabric-happy people, classes...and an amazing amount of luck.
When they see "must be present to win," that is what they mean! They did the "Super Grand Prize" drawing first near the end of the show on Thursday (there was one each day), and the first three names they called belonged to people who had left. Oh well...because the 4th name called was MINE!
I will admit that I screamed "That's me!" and jumped up like some fool on "The Price Is Right" being told to "Come on down!"
I won a Brother LB-6800 (a limited edition Project Runway sewing & embroidery machine). It even comes with this nice rolling tote bag. That is particularly handy since this will be my back-up machine and it will mostly live at my mom's house. My mom has wanted to get back into sewing and was going to get her older (late 90's) Singer tuned up, but this is way better. I'm happy to let her have custody of it.
I went back to the show on Saturday as an ambassador and got to sit in on an interesting class with Cynthia Guffey and meet a couple of lovely ladies who read my blog (and made me feel like a rock star - thank you!!).
I did some more shopping on Saturday. I'd share a picture, but I don't want to set up that show while everybody in my house is watching...might disturb the husband! I'll just share a taste - what I picked up on Thursday (Saturday was waaay more impressive).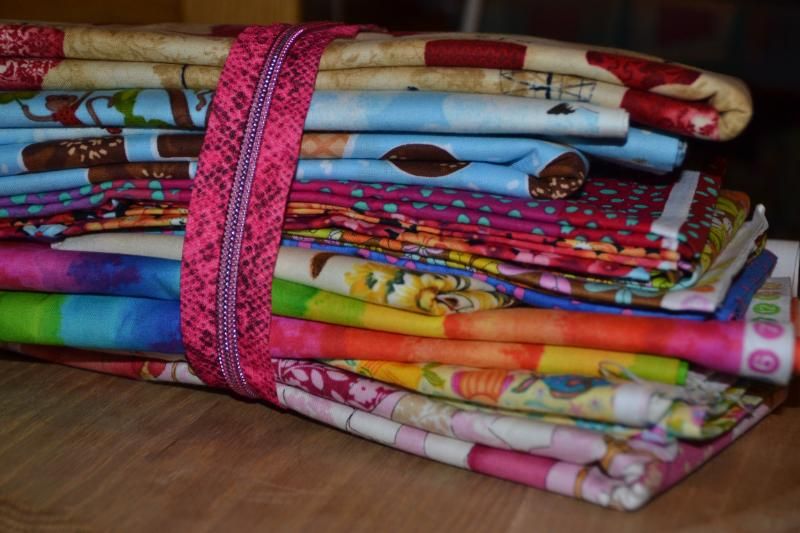 After the show on Thursday, I managed to finish up the video slide show for VBS, a shirt for Jamie, and Gracie's "Brave" outfit. Just in time - we went to the movie on Friday - loved it!