I have been neglecting the old blog a bit, but mainly because I am a Disney-obsessed nut. We are going VERY soon and I still have quite a few projects in the hopper. I want to share a few of my favorites while my embroidery machine is busy.
I got the idea for using Timtex here after making this little pool bag for Gracie. It is the perfect size for her beach towel, goggles, small pool toys. It has her favorite character on it, too!
I adapted this from McCall's 6579, a Nancy Zieman pattern. I had this great mesh I picked up at Loving Stitches in Fayetteville. (I already used some of the red on my park bag for the water bottle area.) I used this for the bottom section of view D and only lined the top portion. There are snaps to help the back both close and create the shape. She can work it easily herself.
She couldn't wait to use today when we went to our local pool!
Who says the kids get all the characters? These just make me smile!
Last week, my daughter and I saw the Katy Perry movie - we both really enjoyed it. I loved all the whimsical costumes Katy and her backup dancers wore during the concerts. At one point, though, I realized that the fabric used in one of the outfits was the same Michael Miller fabric I had picked up recently and it was just blinged up a bit!
Here's the inspiration piece (the dress on the far left):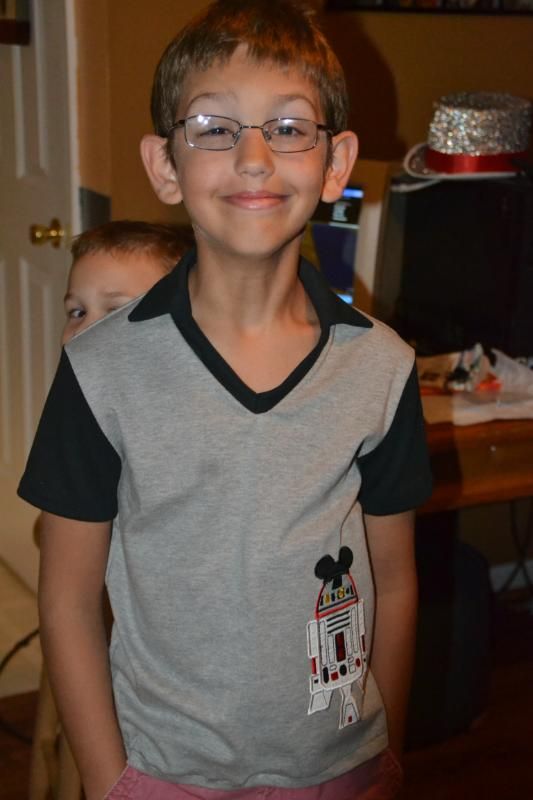 Here is a round-up of the boys' new shirts for our trip. You can guess which one is essentially and homage to the colors of Goofy!
He's GOOFY and he knows it!
I also have done a number of shirts that started off as blanks from Old Navy, Target, or AC Moore. Here are some of them:
I also have a Haunted Mansion themed shirt done but not photographed and a really cute Mickey as a pirate in the hoop as I blog. Plus, there are several cut items ready to hit the sewing machine.One of them is a Grace dress (from youcanmakethis.com) along with 8 appliques stitched out and ready to assemble. That one is for a very special event - Mommy & Gracie having dinner with the Disney princesses! (The boys will be off at Disney Quest for a second visit there, so they will be well-covered!)
You might think I am nuts, but for me, half the fun of planning a Disney vacation is in the details before we go. I made some special outfits before I took the kids to California three years ago (which included 2 1/2 days at Disneyland), but this trip is special. It will be our first time at Disney as a family of six - no strollers, just mom, dad, and four excited kids between 5 and 11. It just doesn't get any better!