This weekend's sewing theme...bright red! Gracie has these fantastic red boots and now she has a couple more bright outfits to go with them.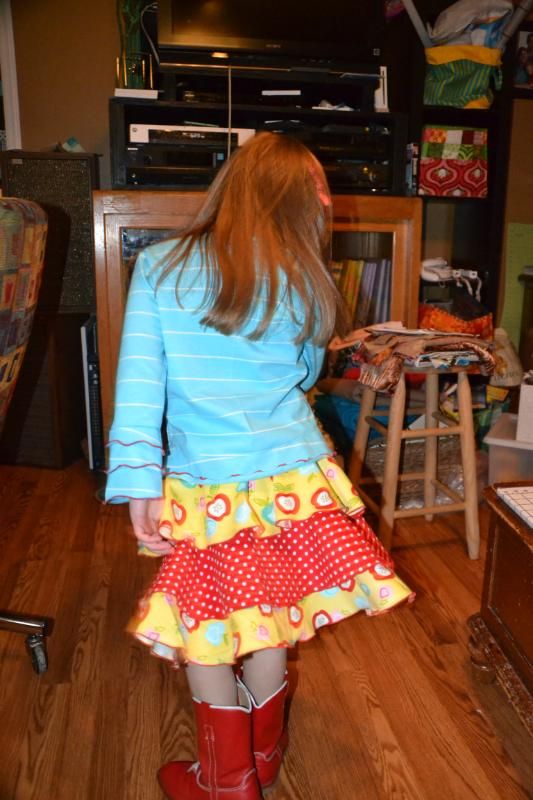 The aqua top was from a 4/2006 (#25) Ottobre pattern and I added the apple design from Planet Applique. The skirt was McCall's 6598 done in Kaufman corduroy (apples) and some red polka dot cord I got from the Patsy Aiken outlet.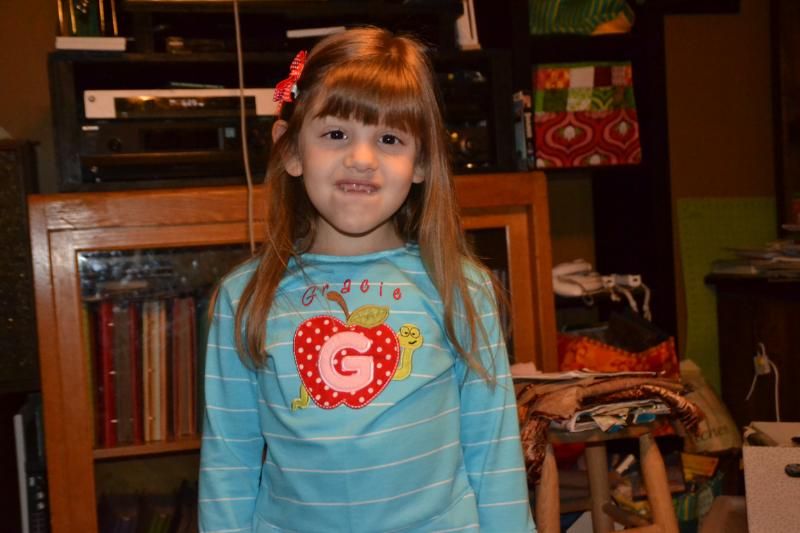 While it might be faster to embellish a pre-made tee, I do think it is easier to stitch out the designs on a shirt that has not yet been constructed. I debated how I wanted to handle the hems on this, but doing a rolled hem after construction on all the ruffles ended up being the easiest option. Then while the serger was still set up for it, I did the same rolled hem on all the skirt tiers prior to constructing the skirt itself.
I decided to make the skirt adjustable for little skinny-mini here and use buttonhole elastic for the waistband. It is stitched down on one end and a button placed inside for adjustments. The other end of the elastic is coming out through a small buttonhole opening inside.
I was excited about receiving a pattern order from a European web site which included some Farbenmix patterns I have been wanting, a Knipmode, a Burda, and a few other independent European pattern makers.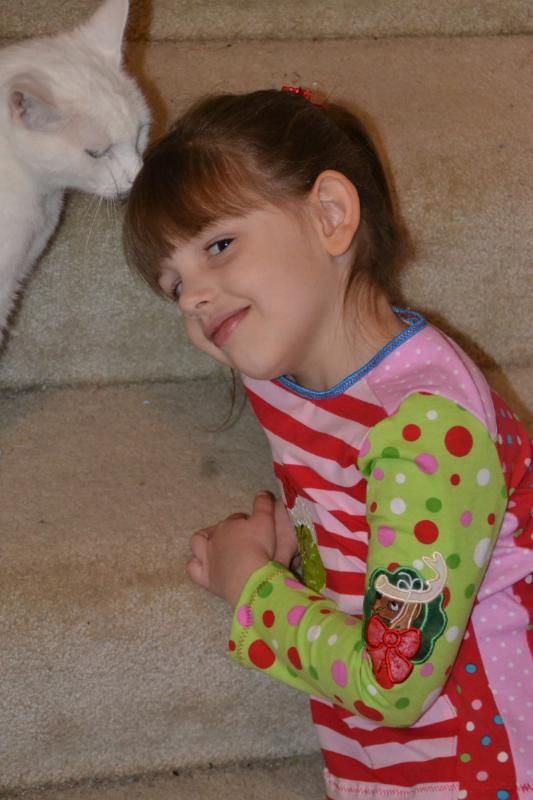 Skippy the cat seems to approve of Gracie's holiday shirt!
Of course, he might just be excited that the gate is finally down after almost 12 years. We could have taken it down sooner, but just hadn't...of course, soon we will need to repaint that wall!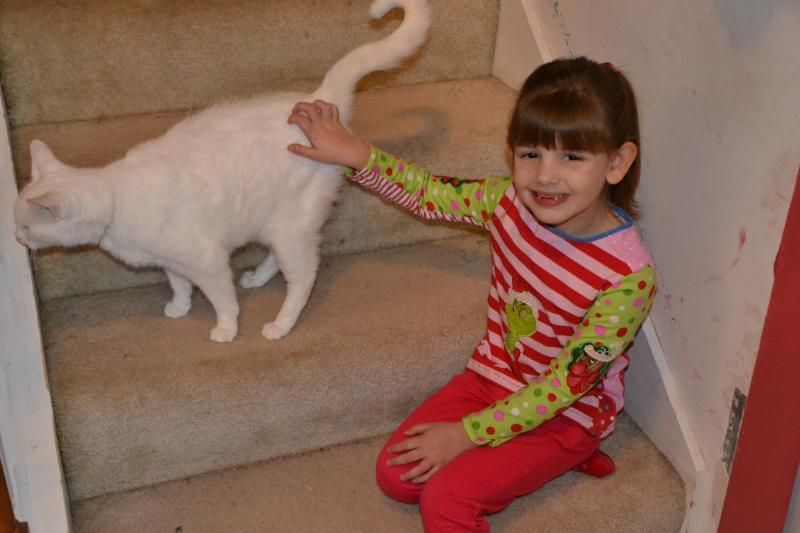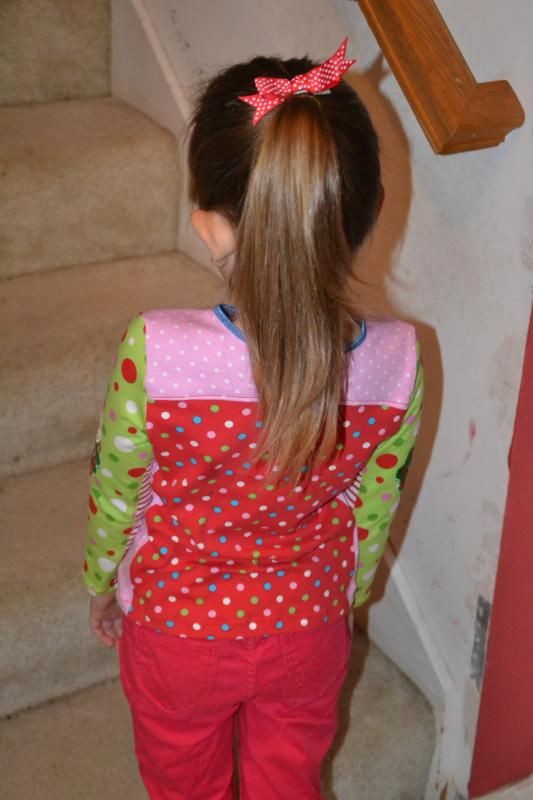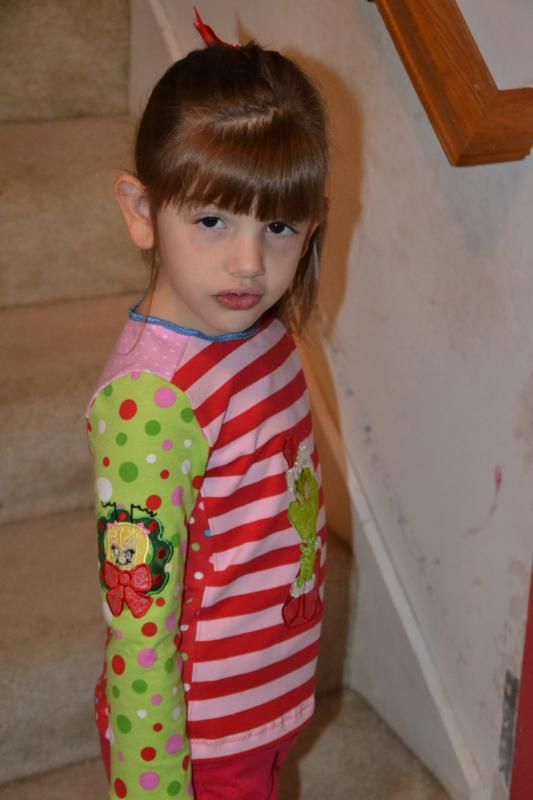 For the Grinch top, I used Farbenmix's Hilde shirt pattern and constructed the front, back, and sleeves of the top before I stitched out the Grinch, Max, and Cindy-Lou. All of the knits are from my Patsy Aiken fabric stash. Since I have a lot of knits, this pattern is perfect for using up a variety of colorful patterns. I cut out a second one of these tops in a blue-green colorway. It will be a non-holiday theme though.
Up next, a Vogue knit dress, a knit top from Knipmode, and Hilde v.2!