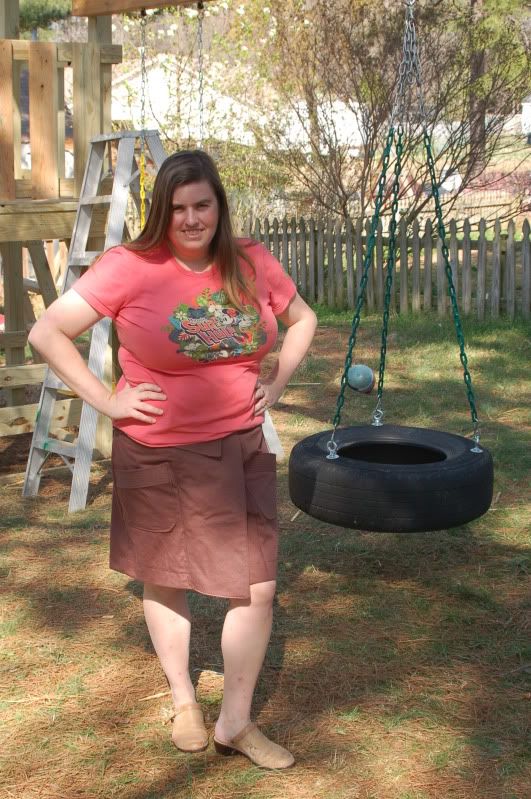 Friends, this is what I made today! I am thrilled to say that it is all for me - not that I don't love home dec, or sewing for my family, but this was for me, and it was a treat.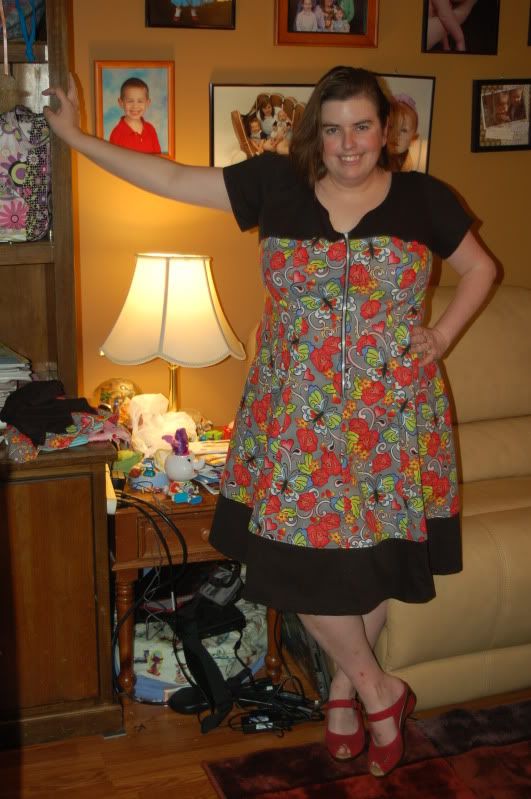 My first project was this brown skirt from Simplicity 2261. It was a great skirt to fit (no alterations), but the best part is all of the fun details. The pockets, the side tab, and the interesting flap at the waist are all stitched in a decorative pattern. It was a great way to use this nice brown twill and still get a garment with great details. I'm kind of a pattern junkie (in many senses of the word) and the pattern in the stitching satisfied my need for flair as well as my need for a neutral skirt.
My second project today was McCall's 6324 with this neat zipper detail (it gets a bit lost in this photo). I was hoping it would turn out shorter since it was mid-knee on the model, but I forget that I am vertically challenged with or without the cute new shoes I'm wearing here. I found the fabric for this project at Mary Jo's in Gastonia while coming home from Cullowhee last month. The fabric screamed out "buy me!" for this pattern (which at that point I didn't even own, had only seen online). Luckily, my guesstimate of the amounts was dead on and I cut this with almost no room to spare. It was meant to be.
I pulled out a number of fantastic cotton prints that I intend to use for me. They will be going through the laundry tomorrow, so I can start cutting probably on Tuesday. I have some more things in mind for my spring wardrobe. I will confess that I don't always preshrink the fabric for my little girl, but for me...um, yeah. I'm not taking any chances with the amount of FBA's I usually mess with. I think my plan will be to sew up some of these fun prints and then fill in the wardrobe gaps with some knit tops since I have a decent knit stash in the stockroom (aka my garage).
At least I can look forward to a lot of great sewing time this spring and summer while watching my kids play in the backyard on their new swingset (seen in the brown skirt pic - hubby is working on staining/sealing the wood, but we paid someone to custom build it).
The best part of today's sewing projects is that I can't decide what to wear to work first! That's a fun dilemma to have.