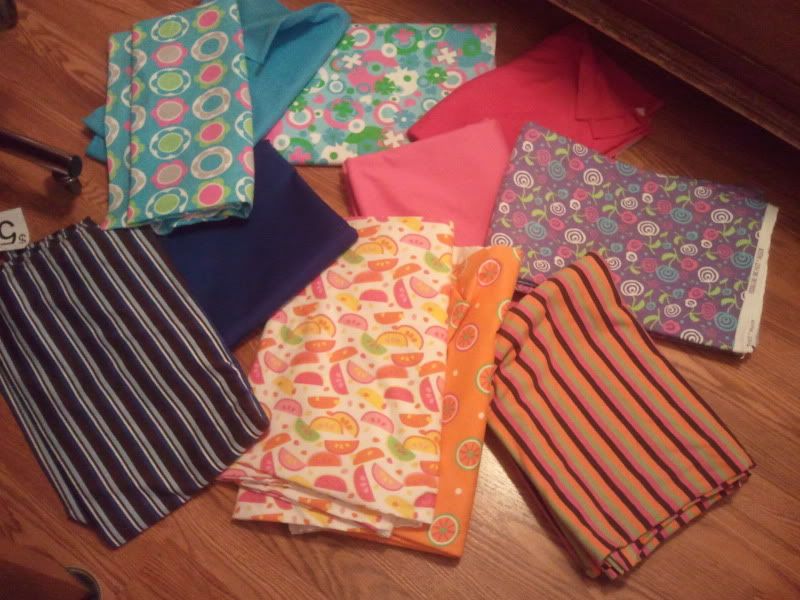 You may now drool...j/k.
All of these pretties came from the Patsy Aiken/Chez Ami Outlet in Raleigh, NC and they are so nice! They get the best quality stuff and sell what they no longer need at excellent prices ($3-$5 a yard, mostly in two yard pieces although sometimes I score smaller tidbits on the clearance shelf. I also got several zippers for 50 cents each. They have nice trim bags, too, but none that I wanted this time.
My oldest son requested the brown and royal blue stripe and the royal blue twill. ;-)
I also picked up this Moda twill at Elegant Stitches:
This is destined to be a skirt or maybe capris for Gracie - mostly likely a skirt.
On a more serious note, the reason I had a chance to hit my favorite fabric haunts on a Tuesday afternoon was that we were on our way to an education rally across from the NC Legislature. My kids are good little protesters (and got camera time behind the interviewer!):
One Voice: Rally for Education
One of the reasons I sew is that I can have nicer things for my family than what my teacher salary buys if I make them myself. It's a shame that education has to fight for funding and teachers have to fight for basic dignity in our jobs. Children have no place in any fight, yet, my kids were not the only ones enthusiastically holding up signs and chanting with the crowd. Today is National Teacher Appreciation Day...kind of ironic.
Thank you for indulging my brief digression away from fabric. We will now return to our regularly scheduled fabric obsession. ;-)