Last weekend, I found an offer for my favorite place at Myrtle Beach, SC, and (easily) convinced the husband that we should go. Soon...while the deal was good, the weather is already beautiful, and it's right before the stressful season of End-of-Grade testing, something as a teacher I HATE. (Shhh! The kids don't know we are going the weekend after Mother's Day...)
So, using this as a motivator, I am Sewing With A Plan (SWAP). I already made Gracie a darling beach monkey dress several weeks ago. She also got the surfer girl t-shirt. She may get one more thing, but for now, I am focusing on the boys and me.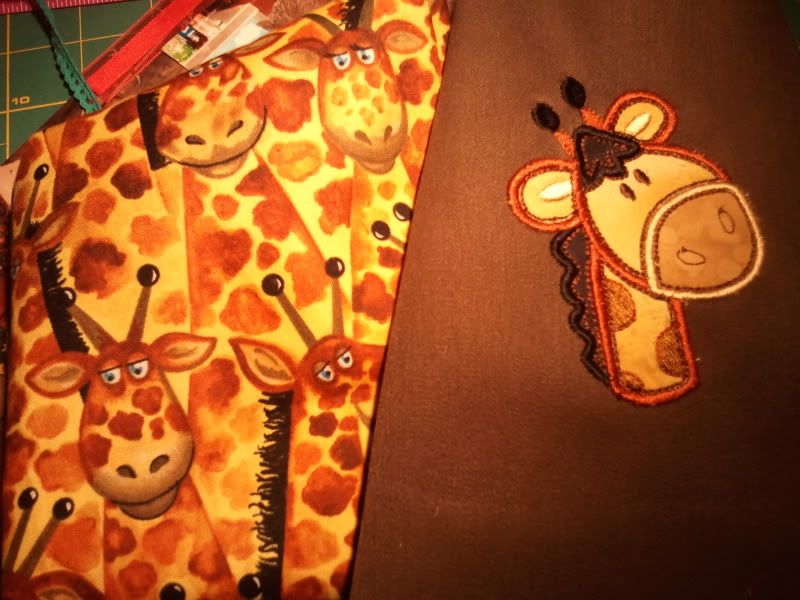 First up is Benjamin - he just turned six and he's cute as can be...and I want to enjoy "cute" on him as long as I can. He loves giraffes, so I bought this giraffe print fabric a few weeks ago with the purpose of a summer shirt. I'm doing matching shorts in a brown cotton-lycra twill and embellishing the pockets with applique giraffe heads.
The second giraffe, which I am stitching out as I blog, is mirror imaged so the little guys will be facing each other on the pockets. Both pieces of the outfit are designs from the newest Ottobre. (What the little guy on the left is wearing...fantastic issue, BTW!)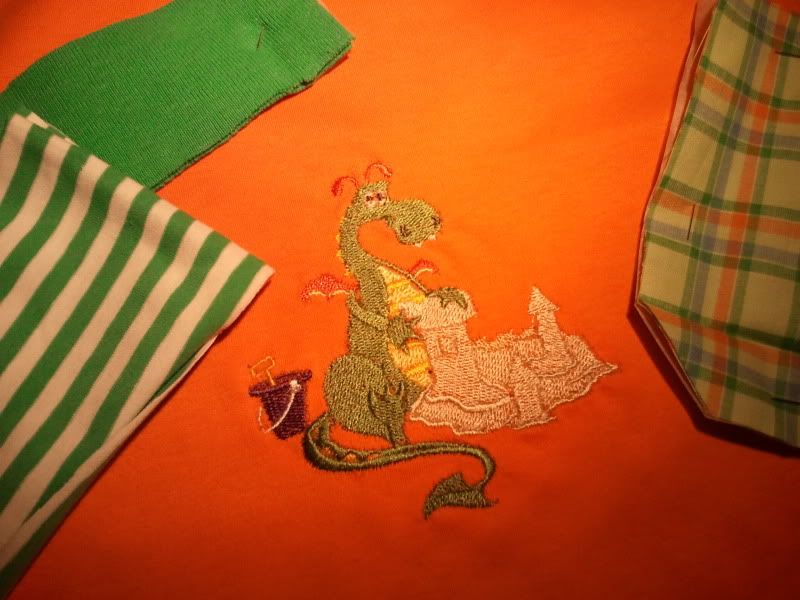 I also have a more beach-y outfit in the works for him. I stitched out the cutest dragon making a sandcastle (from emblibrary.com). The t-shirt is a raglan sleeve (which will be the green and white stripe) and a second layer peeking at the bottom (same stripe). The green rib knit will be used for the collar and sleeve bands. It will be paired with the plaid in a pair of shorts. Both of these pieces are also from Ottobre (different issues) since that's about the only exciting place to find nice things for boys.
For my two older boys, I also plan to make a shorts and t-shirt set for each of them. I spent time with the ten and half year old looking at some cool surf-inspired graphics (among other things) and now have a short list of tween-boy approved embroidery designs and a request to give some sewing lessons this summer.
I also plan to sew up that awesome bathing suit in the newest Ottobre Woman for myself. I have some pretty bathing suit fabric from Reesy's Co-op group that I have been holding onto for quite awhile - time to use it!