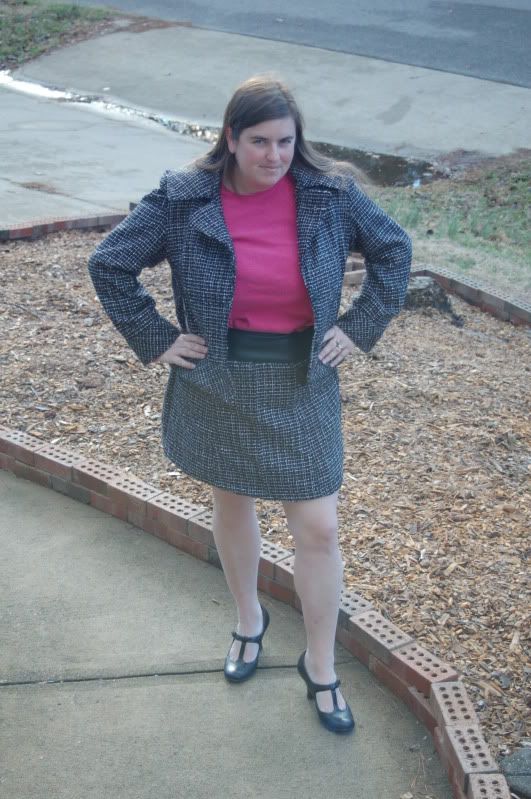 Here is the complete look: V1200 Anne Klein jacket + S2152 skirt (view A).
The waistband, as well as pocket trim, on the skirt is made from pleather. I picked up a yard and half of black pleather at G Street fabrics this summer and this was the perfect project for my first foray into sewing with this stuff. I learned a couple of things. One, it does NOT ease. Two, it will sew beautifully with a walking foot. Without a walking foot, you will be cussing...Three, don't pin it (already knew that) and don't plan to rip out stitches if you don't like weird stretching and/or holes.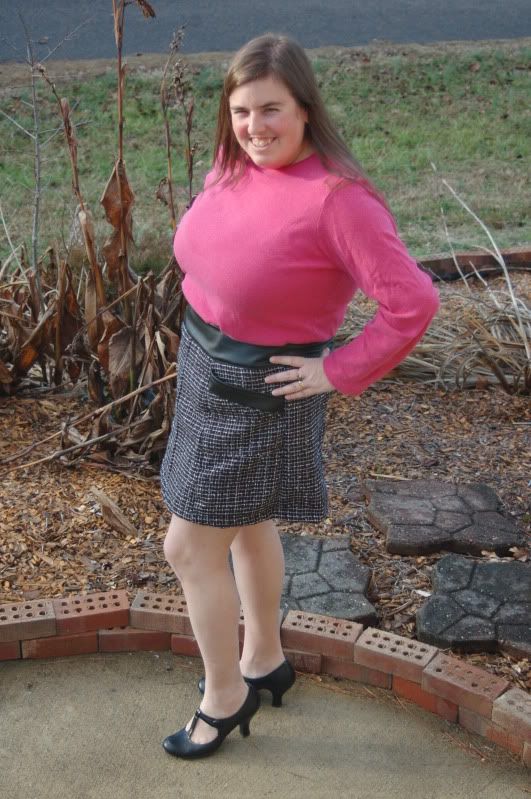 Yes, I did learn a few things the hard way, but I did it on the pocket trim. Once I had it all figured out, I was able to get the waistband on like a dream.
I tend to be bigger in the waist and smaller in the hips, so I often wrestle with getting the waistband to fit without the skirt being too huge through the butt. I have settled on what frequently works out as the easiest solution: cut the waistband one size bigger than the skirt. This way I don't have to ease the skirt and everything is a perfect fit.
I still have the pants from V1200 left to sew, but they will be from a charcoal grey/almost black stretch twill. I still have some of this boucle left, but it would have been too much pattern to make the pants from, hence I went with the Simplicity skirt. Since I did use boucle for the skirt, I piece the front and two back sections together and then used those pieces as a pattern to cut a lining. I also used the lining on the inside of the waistband. Since the pleather is so thick, I skipped any interfacing and it worked out well.
I really like how these pieces turned out - really cute together or as separates.