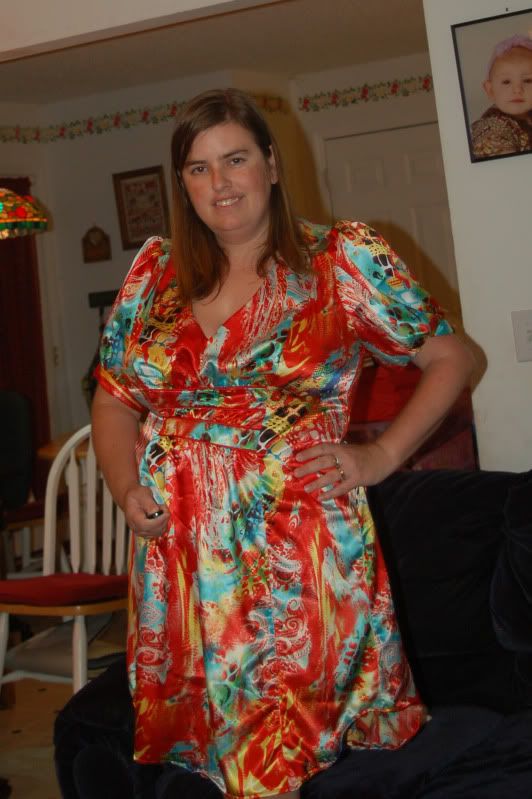 I'm using to doing an FBA on most patterns I sew for myself. However, the FBA for this dress took on a life of its own.
This is
Vogue 1152, a Rebecca Taylor design
that appealed to me because of its figure flattering nature. I also know that *usually* princess seams are easy to alter. This one - not so much. My original FBA, described in my previous post, turned out to have a problem. I had extra space above my girls. It was not good. Plus, I had gaping at the shoulder seam. The inch and a half I added to piece 1 was good, and I would definitely recommend it.
I spent hours messing with the fit before constructing and attaching the sleeves. This project is causing me to think about making a duct-tape-double, but I must admit I am totally horrified at the thought of what that would look like. The hormonal roller coaster of giving birth and then nursing four babies plus a little birth control has not done nice things to my body. Yes, I need to lose weight, but I am sewing for the body I have. It could be worse. I'm a 14 RTW which translates to 18 US or 44 Euro in patterns. I've stayed at that size throughout my forays into the maternity section, and I'll settle for maintenance. Of course, I'd be a liar if I didn't say I sometimes look wistfully at the size 8/10 girl staring at me from my wedding portrait, but she was fleeting (and on the Pill so the darn dress didn't even fit on our first anniversary). Then came the kids...I blame them. Even if I lost 30 pounds, things would never look like they once did. Yep, I'm curvy, but I'm going to do my best to make those curves look good.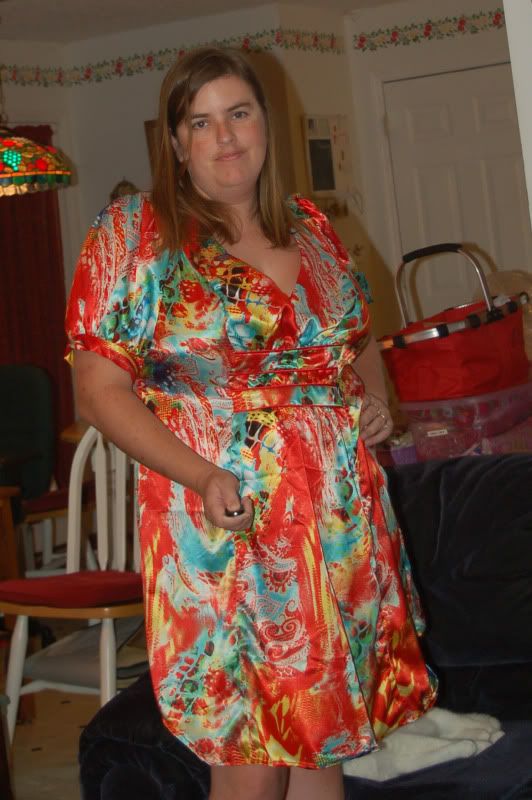 Now, I think I will be much happier after I finish the four knit tops since there should be fewer fitting issues, and did I mention that the poly charmeuse is pretty, but it is slippery! Ugh! Now I remember why I hate sewing with that stuff. I'm not a fan of pinning, but I couldn't have sewn this without pinning a lot of it. Other fabrics, I do very little pinning during construction.
It's moments like this that make sewing frustrating and rewarding at the same time. Hopefully, I'll have a more positive perspective on everything in the morning (since I'm reviewing and blogging in the wee hours). I reckon my experience with this dress was turning into the project I did NOT want to go to sleep thinking about.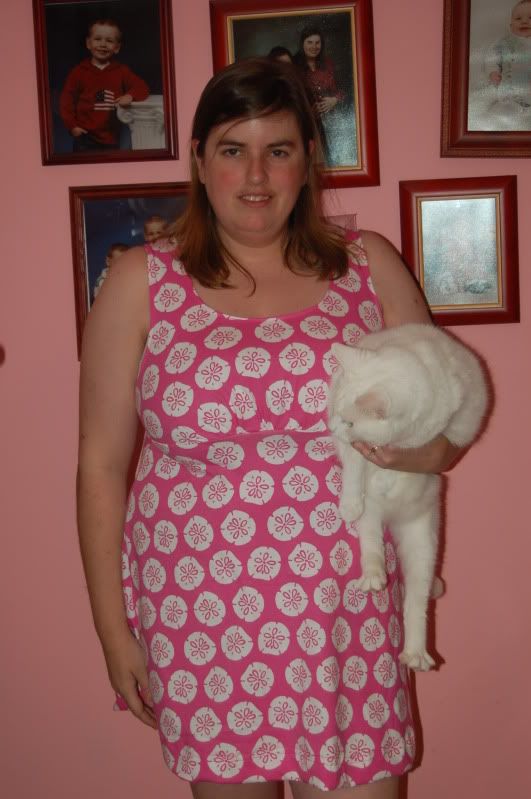 Now, I shall go to bed, wearing my cute knit nightie sewn by me from a pattern in Ottobre Woman (that I repurposed as a nightie). This one makes me feel cute and the FBA worked the first time!
Sleep now, sewing knits in the morning, grad school work in the afternoon...